Welcome to the Dance Beat equipment rental page! We have DJ equipment available for rent. Each set contains a double CD player and integrated mixer, two professional high-end amplified speakers, two speaker stands, and required cables. Play CD's or plug in a computer or mp3 player(s) for 800 watts of rich, deep party music or PA system!
To arrange for rental, please do one of the following:
We look forward to working with you to make your event a success!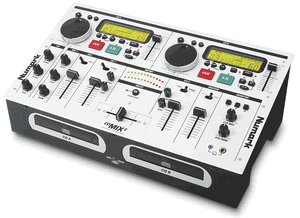 Details (each set):
Numark CDMIX-1 or CDMIX-2 (1)
Mackie SRM-450 Amplified Loud Speakers (2)
Speaker Stands (2)
Cables – XLR Signal and Power (2)

One-day rental $200
Two-day rental $250

A $1500 deposit is taken on credit card at equipment pick-up and promptly refunded at equipment return and operation test. Easy pick-up and return in Berkeley and North Oakland.